*** Under construction ***
Data on this page may be wrong!
Tod Wisenbaker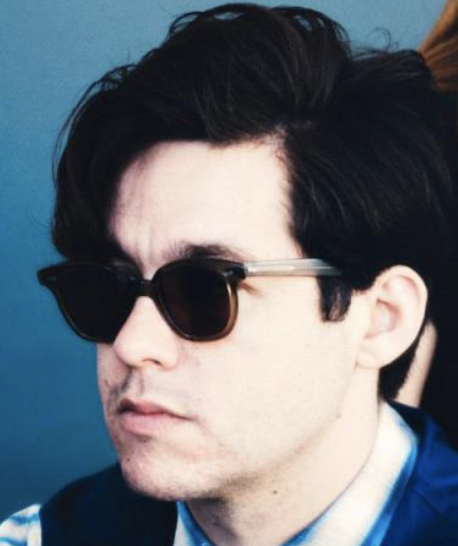 add mugshot
instrument(s)
AllMusic credits Tod with the following instruments: Vocals, Guitar, Guitar (Acoustic), Guitar (Electric), Harp, Harmonica, Piano, Bass Instrument, Guitar (Bass), Drums, Drum Set, Handclapping, Vocals (Background), Bass, Composer. He played most instruments except drums for the fourth La Sera album.
Total number of shows played:
71
Guitar player
Line-ups (number, names and date intervals):
bio (with source)
Tod is one part of the husband-wife duo La Sera. They recorded their 4th album at PAX-AM with Ryan Adams producing. Ryan and Tod hit it off, bonding on their The Smiths fandom, and made the Taylor Swift cover-album together (Adams' 1989-album). Previously Tod has been a member of The Whispertown 2000 and has recorded with Jenny Lewis. He joined Ryan Adams' touring band, The Unknown Band, in April 2017 when the band had lost guitarist Benny Yurco.
Add interview
Add video
links (url + description)
shows (listed by date)

Band
Date
Venue
City
Country
Ryan Adams & Band
01/10/2015
The Daily Show w/ Trevor Noah
New York, New York
USA
Ryan Adams & Band
19/10/2015
Jimmy Kimmel Live!
Los Angeles, California
USA
Ryan Adams
29/04/2017
Whitaker Center
Harrisburg, Pennsylvania
USA
Ryan Adams
01/05/2017
The Late Show with Stephen Colbert
New York, New York
USA
Ryan Adams
02/05/2017
Beacon Theatre
New York, New York
USA
Ryan Adams
03/05/2017
Beacon Theatre
New York, New York
USA
Ryan Adams
06/05/2017
Tower Theatre
Philadelphia, Pennsylvania
USA
Ryan Adams
07/05/2017
State Theatre
Portland, Maine
USA
Ryan Adams
09/05/2017
Massey Hall
Toronto, Ontario
Canada
Ryan Adams
10/05/2017
Blue Hills Bank Pavilion
Boston, Massachusetts
USA
Ryan Adams
12/05/2017
Merriweather Post Pavilion
Columbia, Maryland
USA
Ryan Adams
14/05/2017
Shaky Knees Music Festival
Atlanta, Georgia
USA
Ryan Adams
20/05/2017
Civic Theatre
Auckland
New Zealand
Ryan Adams
22/05/2017
Woolly Mammoth
Brisbane
Australia
Ryan Adams
23/05/2017
The Tivoli
Brisbane
Australia
Ryan Adams
24/05/2017
The Northern Hotel
Byron Bay
Australia
Ryan Adams
26/05/2017
Margaret Court Arena
Melbourne
Australia
Ryan Adams
27/05/2017
Hordern Pavilion
Sydney
Australia
Ryan Adams
31/05/2017
Jimmy Kimmel Live!
Los Angeles, California
USA
Ryan Adams
01/06/2017
The Granada Theatre
Santa Barbara, California
USA
Ryan Adams
02/06/2017
Greek Theatre
Berkeley, California
USA
Ryan Adams
03/06/2017
Greek Theatre
Los Angeles, California
USA
Ryan Adams
18/06/2017
Eccles Theater
Salt Lake City, Utah
USA
Ryan Adams
19/06/2017
Fox Theatre
Boulder, Colorado
USA
Ryan Adams
20/06/2017
Red Rocks Amphitheatre
Morrison, Colorado
USA
Ryan Adams
22/06/2017
Southern Alberta Jubilee Auditorium
Calgary, Alberta
Canada
Ryan Adams
23/06/2017
Northern Alberta Jubilee Auditorium
Edmonton, Alberta
Canada
Ryan Adams
25/06/2017
Alix Goolden Hall
Victoria, British Columbia
Canada
Ryan Adams
27/06/2017
Orpheum
Vancouver, British Columbia
Canada
Ryan Adams
28/06/2017
Paramount Theatre
Seattle, Washington
USA
Ryan Adams
29/06/2017
Edgefield
Troutdale, Oregon
USA
Ryan Adams
06/07/2017
NOS Festival
Lisbon
Portugal
Ryan Adams
07/07/2017
Mad Cool Festival
Madrid
Spain
Ryan Adams
08/07/2017
Cruilla Festival
Barcelona
Spain
Ryan Adams
09/07/2017
Pointu Festival
Gaou Island
France
Ryan Adams
11/07/2017
Cavea Auditorium Parco Della Musica
Rome
Italy
Ryan Adams
12/07/2017
Anfiteatro Del Vittoriale
Lake Garda
Italy
Ryan Adams
13/07/2017
Culture Factory
Zagreb
Croatia
Ryan Adams
15/07/2017
Muffathalle
Munich
Germany
Ryan Adams
16/07/2017
Tempodrom
Berlin
Germany
Ryan Adams
28/07/2017
Palace Theatre
St. Paul, Minnesota
USA
Ryan Adams
29/07/2017
Palace Theatre
St. Paul, Minnesota
USA
Ryan Adams
30/07/2017
Riverside Theatre
Milwaukee, Wisconsin
USA
Ryan Adams
01/08/2017
The Pageant
St. Louis, Missouri
USA
Ryan Adams
03/08/2017
The Vic Theatre
Chicago, Illinois
USA
Ryan Adams
04/08/2017
Lollapalooza
Chicago, Illinois
USA
Ryan Adams
05/08/2017
Hinterland Music Festival
Saint Charles, Iowa
USA
Ryan Adams
09/08/2017
Vega
Copenhagen
Denmark
Ryan Adams
10/08/2017
Øya Festival, Tøyenparken
Oslo
Norway
Ryan Adams
11/08/2017
Way Out West Festival
Göteborg
Sweden
Ryan Adams
13/08/2017
Flow Festival
Helsinki
Finland
Ryan Adams
16/08/2017
Tivoli Redenburg
Utrecht
Netherlands
Ryan Adams
17/08/2017
Pukkelpop Festival
Hasselt
Belgium
Ryan Adams
19/08/2017
Green Man Festival
Brecon
Wales
Ryan Adams
08/09/2017
Ulster Hall
Belfast
Northern Ireland
Ryan Adams
09/09/2017
Cork Opera House
Cork
Ireland
Ryan Adams
11/09/2017
Olympia Theatre
Dublin
Ireland
Ryan Adams
12/09/2017
Olympia Theatre
Dublin
Ireland
Ryan Adams
14/09/2017
Apollo
Manchester
England
Ryan Adams
15/09/2017
Usher Hall
Edinburgh
Scotland
Ryan Adams
17/09/2017
Sage 1
Gateshead
England
Ryan Adams
18/09/2017
02 Academy
Leeds
England
Ryan Adams
19/09/2017
02 Academy
Bournemouth
England
Ryan Adams
21/09/2017
Corn Exchange
Cambridge
England
Ryan Adams
22/09/2017
Royal Albert Hall
London
England
Ryan Adams
24/09/2017
Pilgrimage Music & Culture Festival
Franklin, Tennessee
USA
Ryan Adams
29/09/2017
Breese Stevens Field
Madison, Wisconsin
USA
Ryan Adams
30/09/2017
The Orpheum
Memphis, Tennessee
USA
Ryan Adams
01/10/2017
The Roots N Blues N BBQ Festival
Columbia, Missouri
USA
Ryan Adams
03/10/2017
Stiefel Theatre
Salina, Kansas
USA
Ryan Adams
06/10/2017
Austin City Limits
Austin, Texas
USA