Elvis Presley cover versions
Ryan Adams has covered 2 different songs by Elvis Presley: Always on my Mind, That's Alright Mama.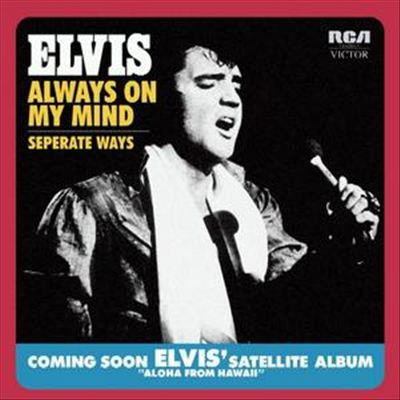 Always on my Mind (single) (1972)
by Elvis Presley
Elvis Presley recorded his version of "Always on My Mind" on March 29, 1972, a few weeks after his February separation from wife Priscilla.[3] The song received immense fame and critical appreciation and is considered one of the standout songs of the '70s for Elvis. The song was released as the B-side of the "Separate Ways" single, which reached Gold status in the U.S for sales of over a million copies. It was listed as a double sided hit reaching number 16 on Billboard magazine's Hot Country Singles chart in November 1972.[4] In the UK "Always on My Mind" was the hit song and "Separate Ways" was the B-side. It was voted the #1 song of Presley's recording career in a poll conducted by ITV in 2013.[5]