2018 came and went with seemingly very little action comnpared to 2019 starting with the promise of 3 new albums, singles, touring and talk of an all-star band. The press is frantically reporting and Twitter and Instagram are lighting up, with none of the previous worries on that account being triggered. Ryan is back! But let's take a closer look at 2018 and see what went down last year.
January
Ryan Adams-produced album by Starcrawler is released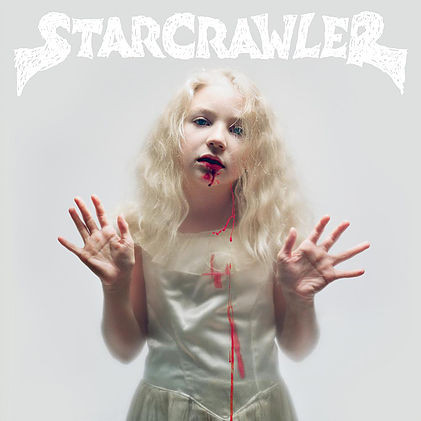 Sometime in 2017 Ryan produced and recorded debuting L.A. band Starcrawler at the Pax-Am studio. Their album was released in January and the press coverage was quick to latch on to the Ryan Adams producer credit. Like most Pax-Am productions, the production is quick and dirty sounding, with the focus on capturing great performances. The record is a great rock'n'roll record in the spirit of the first The Strokes record, Is This It. Unlike Ryan's previous Willie Nelson, Butch Walker, La Sera and Jenny Lewis productions, which were very much in the vein of Ryan's own universe, this is straying a bit further into sleazy rock'n'roll.
Listen to the first single, I Love L.A. for a taste.
Ryan Adams signature Benson amp is announced
For the past couple of tours Ryan and Todd have been using Benson Amps. In January it was announced that a signature amp was underway. Following on the heels of the Prisoner giveaway guitar, the VHS guitar pedal, the forthcoming signature Fender strat and the Defcon 4 guitar pedal (released in September 2018) this is becoming a theme for Adams, and a great adventure for fans as well.
The amp was first previewed on Instagram and later the same month demo'ed at NAMM. The initial short description went: "Something new. We aren't manufacturing this yet but here's the prototype Ryan Adams signature guitar amp! It is essentially a 15W Chimera circuit with Tall Bird style reverb, and a custom bucket brigade chorus/tremolo module from the amazing Chase Bliss Audio. Yes that is a lit up VU meter and it works. Faceplate design by Ryan and Aaron James Draplin
and an unqualified amp tech (Benson Amps)! Check it out at the Chase Bliss booth at #NAMM2018…I think Mason Stoops (Los Angeles session guitarist) will be playing it….mostly 😉"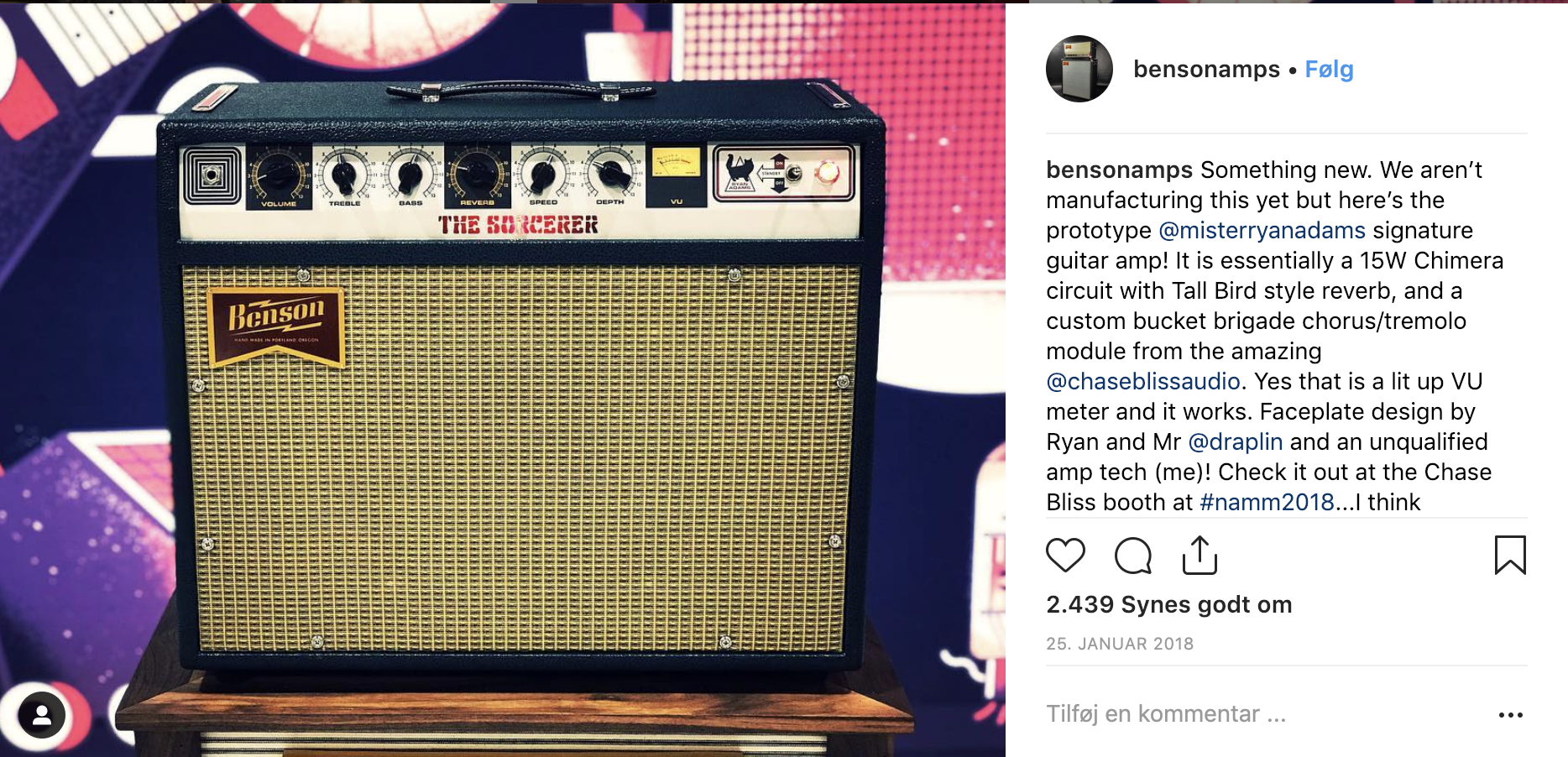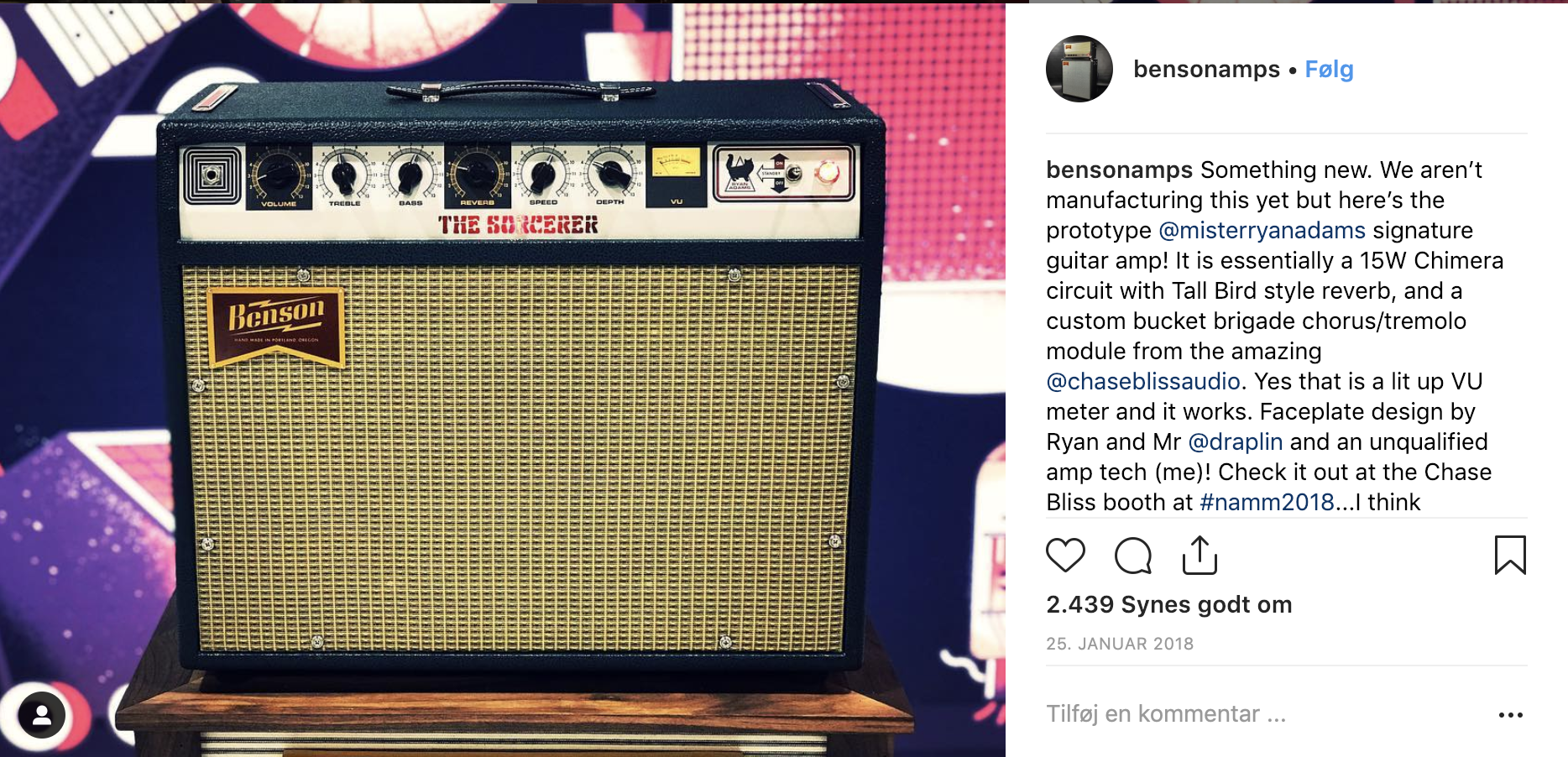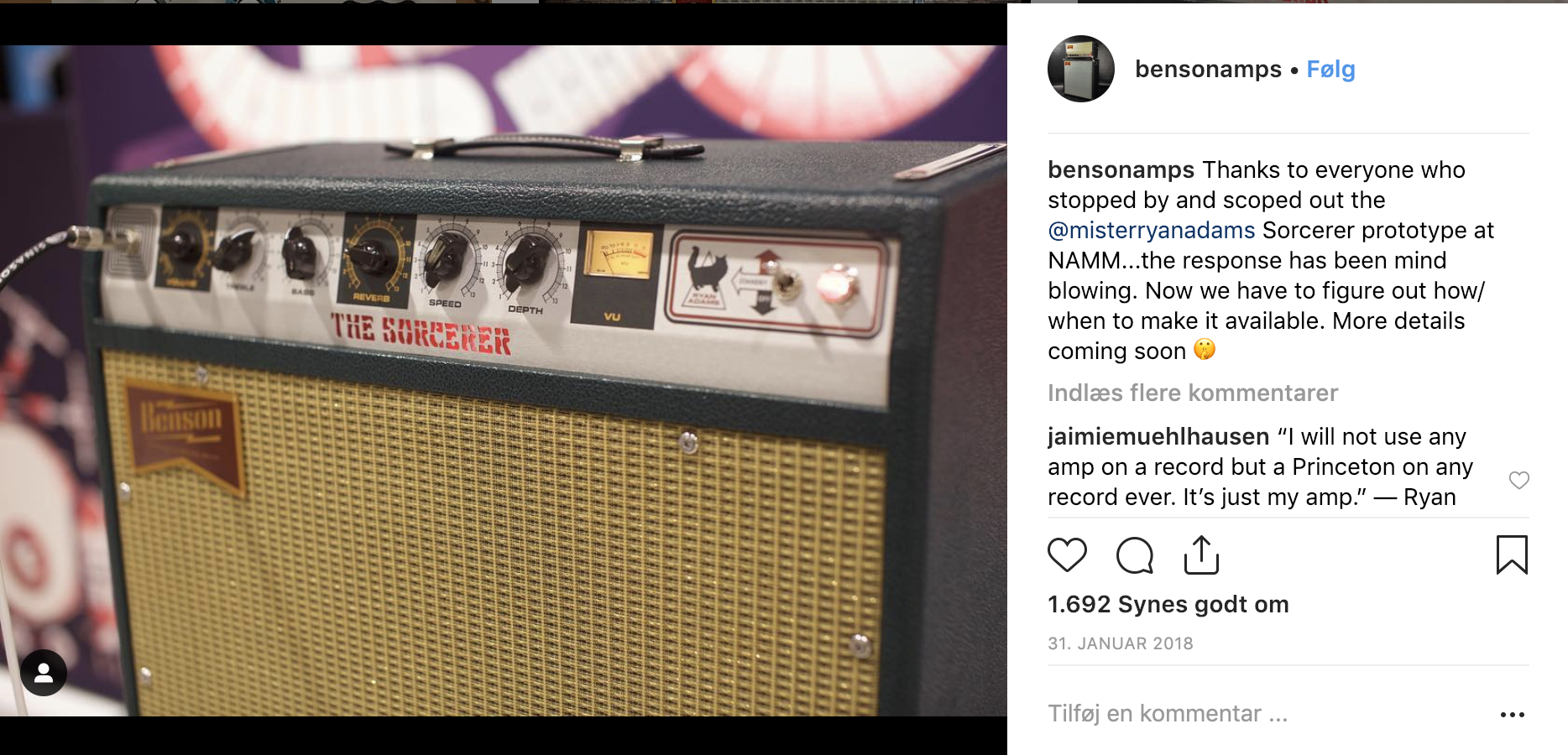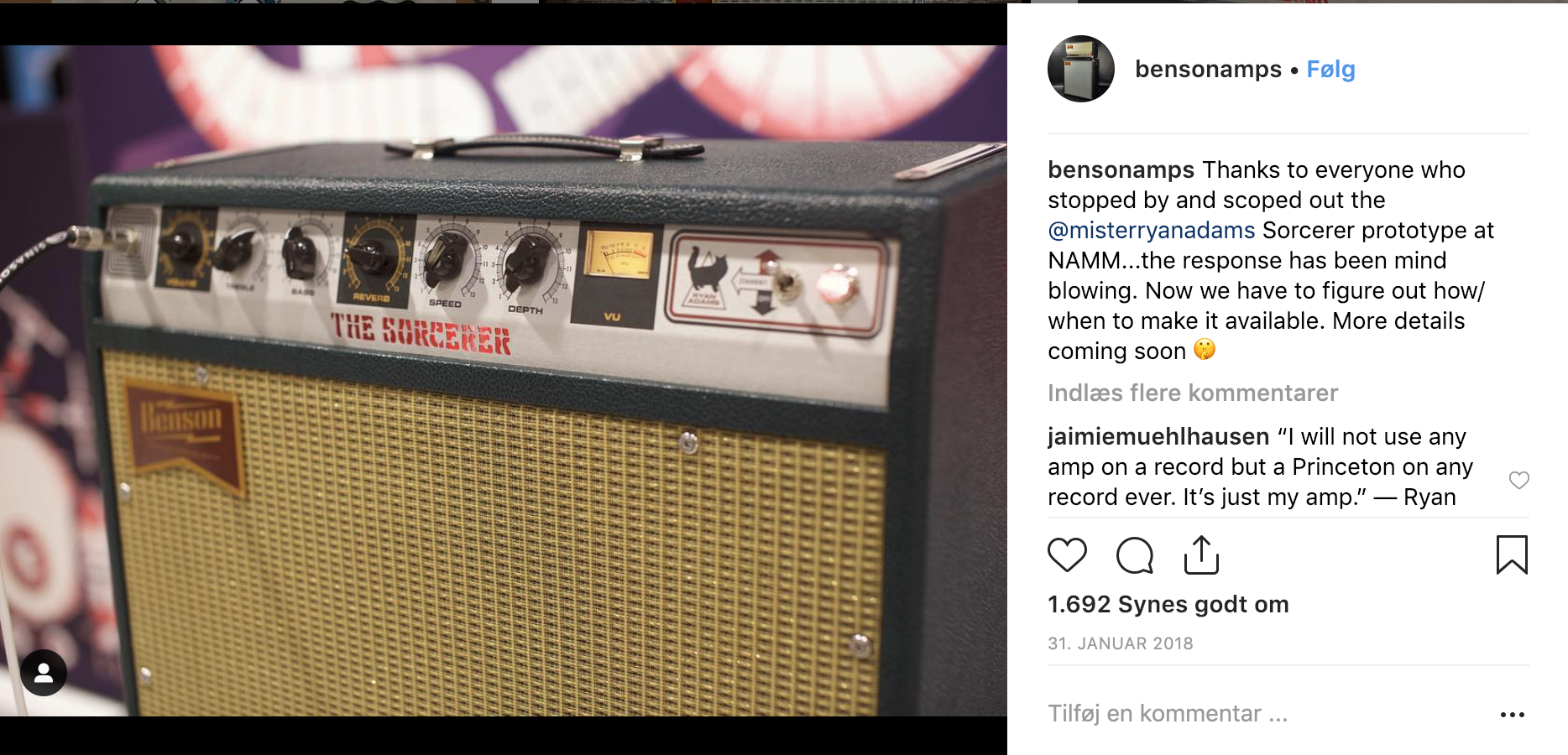 February
Baby I Love You single released for Valentine's Day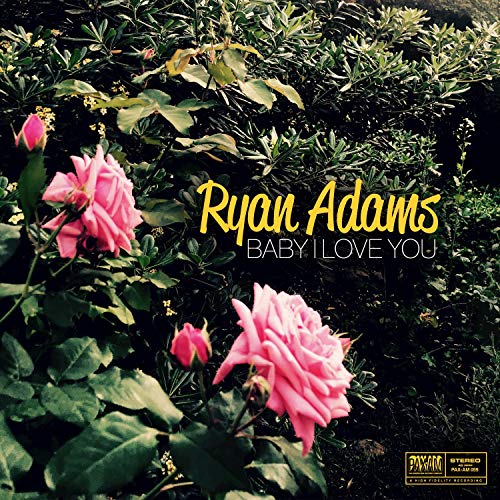 Out of nowhere Ryan Adams dropped a single for Valentine's Day. It seemed well suited and a fresh breath of air after the extensive Prisoner coverage. That being said, Baby I Love You is an outtake from the Prisoner sessions with Johnny T on drums and Ryan playing everything else. Originally the single was announced as a vinyl release with the b-side Chris (referring to Adams' brother who passed away in late 2017). Perhaps deeming that song too personal at the last minute, the single would eventually contain the b-side Was I Wrong? A Prisoner-outtake that was first debuted in concert in Summer 2016, before being released in late 2017 on the Live from Rough Trade solo live album.
The song Baby I Love You was upbeat and 60s sounding, eliciting a response of "could this be the newly found Beatles infatuation bearing fruit?" from some fans. It being a Prisoner outtake means it was recorded before Ryan's 2017 first publicly announced Beatles-immersion (essentially an album-by-album devouring on his Instagram and Twitter accounts).
The video was directed by Springfield native Brook Linder. Viewers can see Springfield's Pineapple Whip, Commercial Street, a water tower, the street signs for the intersection of Delmar and Kentwood, and several residential shots.
"I grew up in Springfield and have a lot of great friends and memories of being young and having fun there. Ryan's music reminds me of that, too. It made sense to combine the two," Linder said in an email to the News-Leader. Linder has directed music videos for several artists, including Nine Inch Nails, Beck and Spoon.
Ryan Adams shares update from the recording studio
2017 ended with Ryan sharing pictures of him gardening and doing some lo-fi home recording after the exhaustive and extensive Prisoner world tour. In February he was back to his calling recording with his bandmates.
JamBase reported (essentially referring directly to Ryan's Instagram feed – since deleted): Adams' most recent studio update notes he was joined by Todd Wisenbaker on guitar, Charlie Stavish on bass and Aaron Ficca on drums, with keyboardist Ben Alleman still set to track his part. A previous update indicated the sessions had produced "7 songs so far."
March
NME reports the next Ryan Adams album could be on the way very soon
The musician appears to be on a hot streak, with the follow-up to 2017's 'Prisoner' seemingly nearing completion. Ryan Adams has given his fans an update on the progress of his next album, revealing that a total of 11 songs have now been recorded – suggesting that his next LP could be on the way very soon.
"Records are funny creatures sometimes – they wake you up like they can't wait to just get born," he wrote in accompaniment to a video of a mixing desk, where snippets of new music could be heard. See the tweet below.
April
Exclaim reports that Ryan Adams Scraps New Album and Throws Away the Tapes
When a fan asked about his new LP and his plans for the rest of the year, he responded that he had "scrapped everything" and added, "The best thing about analog tape is you can literally throw it away and start over."
Evidently the songs he was working on felt stale, and he explained, "I was letting myself fall into those worn out concepts of design & obligation." He's already started work on a new project, although it sounds like this is still in the early stages.
His brother's passing was also making itself felt with Adams tweeting, "I am still broken. He's gone. It hurts to play."
It is very interesting to revisit these tweets now that Big Colors have been announced (for release in April 2019). Both tweets describe his new songs and new direction using metaphors of tantalising colors. It sounds like he is describing a Eureka moment that sent him on a search for new sounds. Sounds he's tying to colors.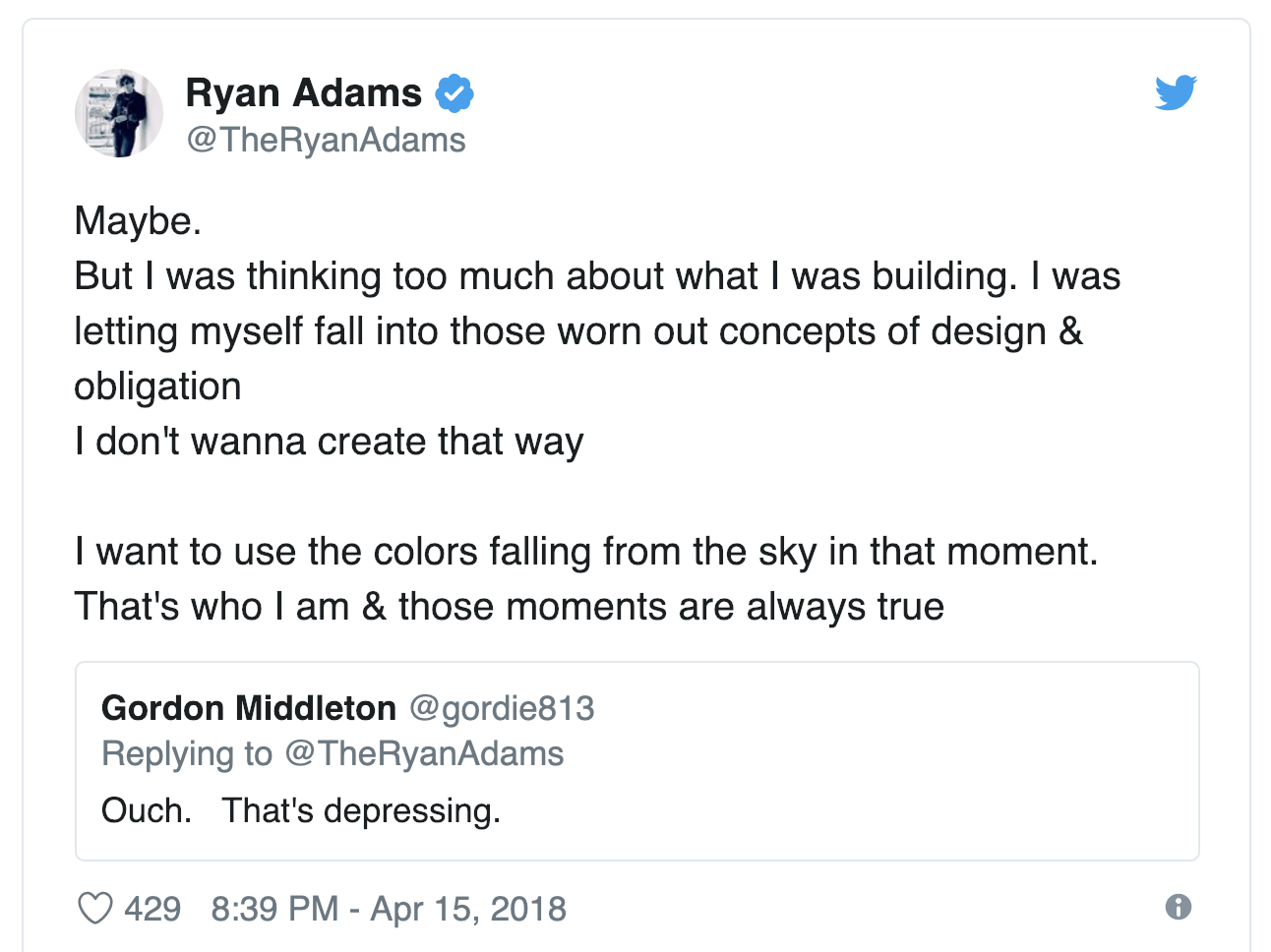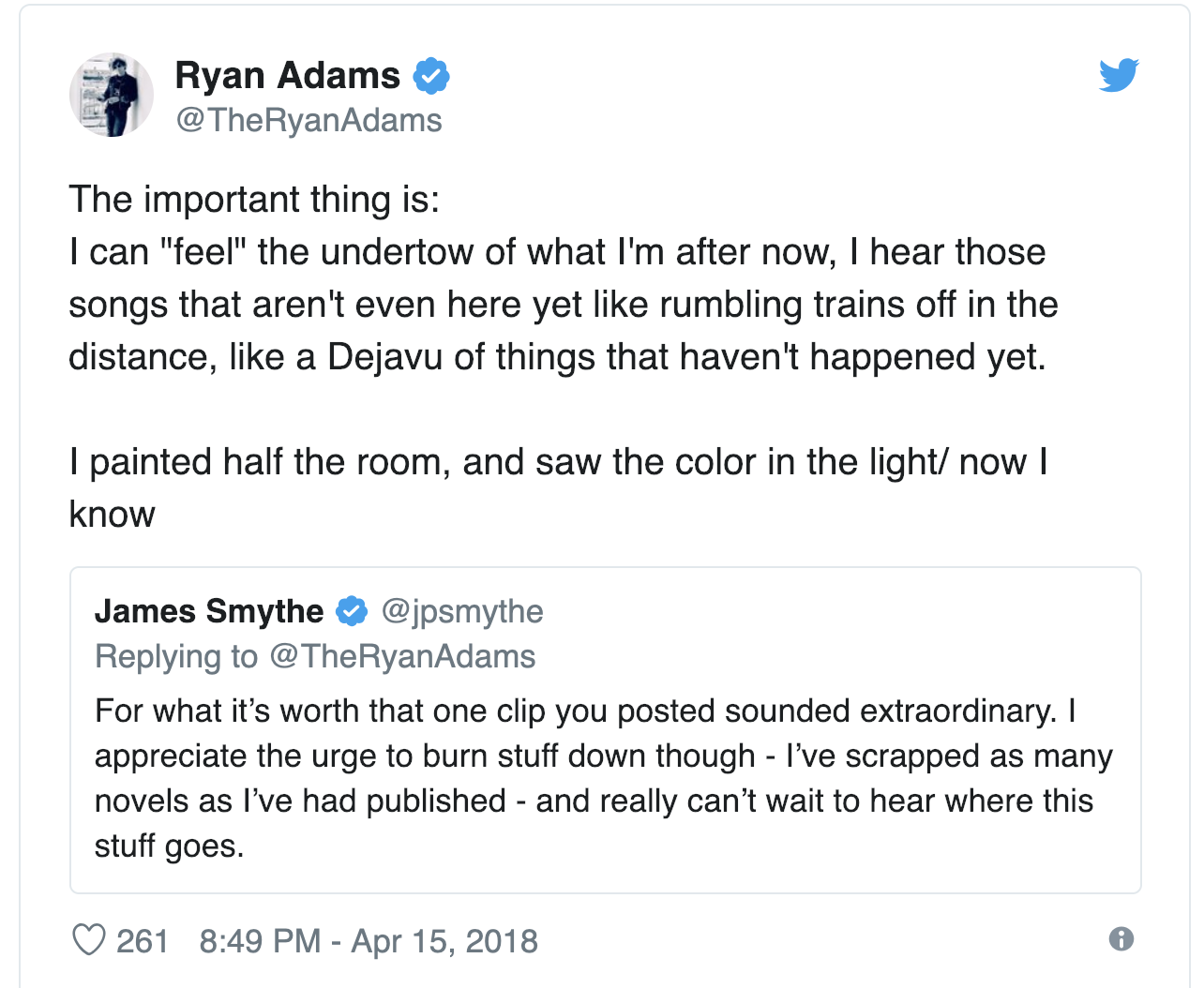 May
Ryan Adams performs The Rolling Stones' Exile on Main St. in New Orleans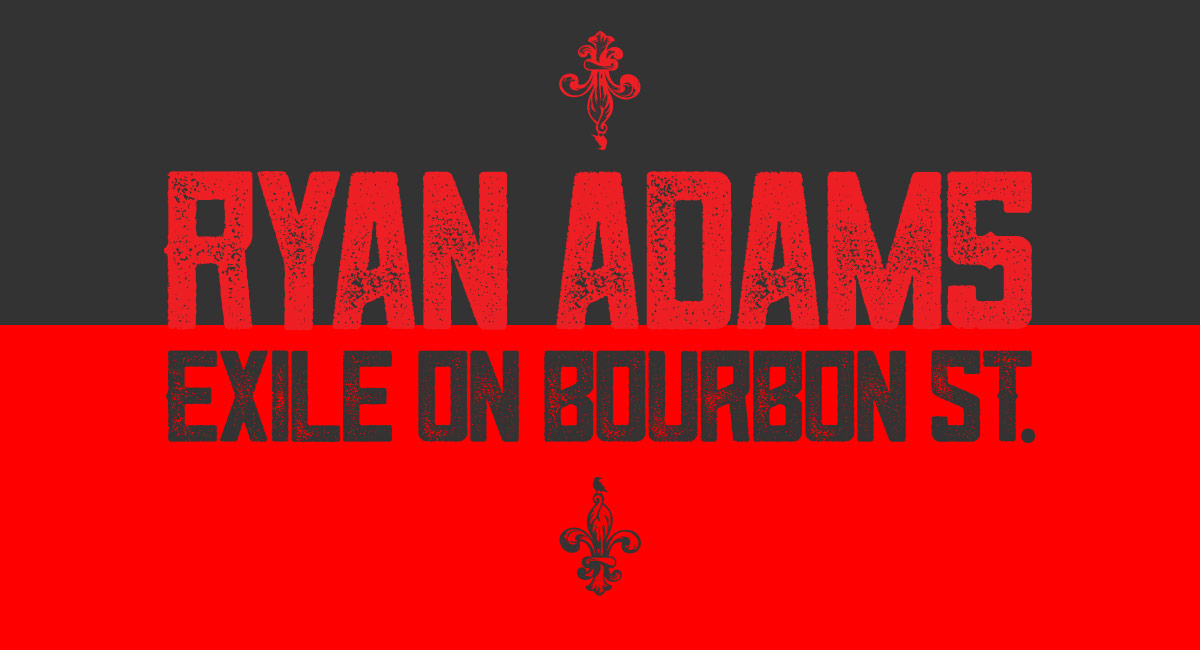 Ryan Adams and a handful of his touring band travelled to New Orleans' Saenger Theatre for a one-off concert of the Rolling Stones' classic 1972 album, Exile on Main St. The event was dubbed Exile on Bourbon St. and included an all-star cast of local musical royalty.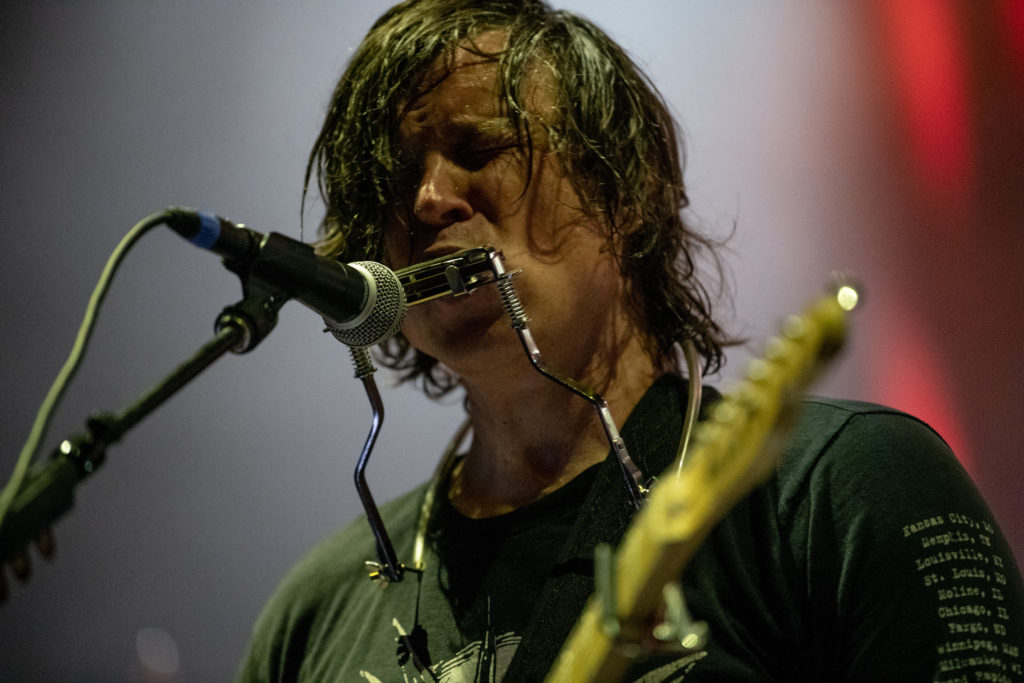 Alongside Adams stood iconic bass-player, musical director, and Rolling Stones producer Don Was. The lineup also featured Cyril Neville of The Neville Brothers, keyboard master John Medeski, funk drummer Terence Higgins, background vocalists Regina and Ann McCrary, and horns star Mark Mullins and the Levee Horns composed of trumpeter Bobby Campo and tenor saxophone genius Alonzo Bowens. Rolling Stones' saxophonist Karl Denson made a surprise guest appearance on "Rip This Joint."
Naturally the event was captured by fans on both audio and video, so luckily the one-off was available to the masses in blurry handheld fidelity. Adams would later ask on Twitter, if there was any interest in a release of the rehearsals and show as a live album. Including at least part of the rehearsals make sense, as they could be selected from different takes in a studio-like environment, but also because the band ended up performing only 16 of the album's 18 songs on the night of the show.
Tackling this classic album was a brave choice. Not only because of its iconic status, but also because it captures the best performances of the legendary Rolling Stones in their best sounding line-up ("the Mick Taylor years"). Covering the album with an all-star band thrown together in a few rehearsals would prove daunting, but according to the reviews easily worthwhile. I have yet to hear a pristine recording and would love to hear an official release. Working against it could be the 1989 release (from 2015), which put Ryan on the map as a world class interpreter. To continue down that road after only 1 studio album would probably paint Ryan as a bit of a copy-cat to the public at large. Especially after the surprising and well-deserved positive attention the Taylor Swift album got.
The line-up:
Ryan Adams – vocals, guitar
Don Was – bass
Todd Wisenbaker – vocals, guitar
Regina McCrary – vocals
Ann McCrary – vocals
Terrence Higgins – drums
Cyril Neville – vocals, percussion
Mark Mullins – horns
John Medeski – keyboards
Ben Alleman – vocals, organ
Bobby Campo – trumpet
Alonzo Bowens – tenor saxophone
Karl Denson – saxophone
Ryan appears with finalist Britton Buchanan on The Voice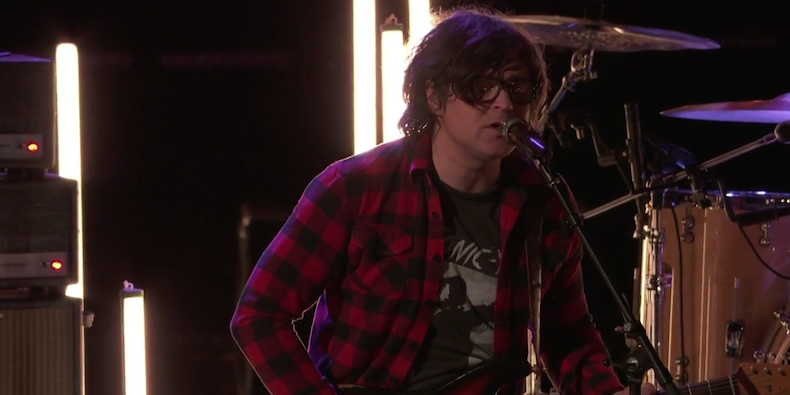 On the season 14 finale for NBC's singing competition series "The Voice," Ryan Adams made a guest appearance. He performed "To Be Without You" with contestant Britton Buchanan, a fellow North Carolina native. Florence and the Machine also appeared on the finale. Earlier in the season a contestant performed Come Pick Me Up, which perhaps explains the finalist choosing a known Prisoner cut to appear with alongside Adams.
Ryan cuts a heavy metal jingle for Colorado station 105.5 Colorado Sound
Gearing up for 2 shows in Salt Lake City, Utah and Red Rocks, Colorado, Ryan devised some seriously odd and funny promotion. For the Colorado show he came up with an irresistable jingle for the Colorado Sound station. With all bets being off, i.e. the path being basically untreaden, he devised a tasty heavy metal piece of rock that was both recognizable, funny and catchy. Tongue in cheek and freewheelin' cool at the same time.
June
Weatherman appearance in Utah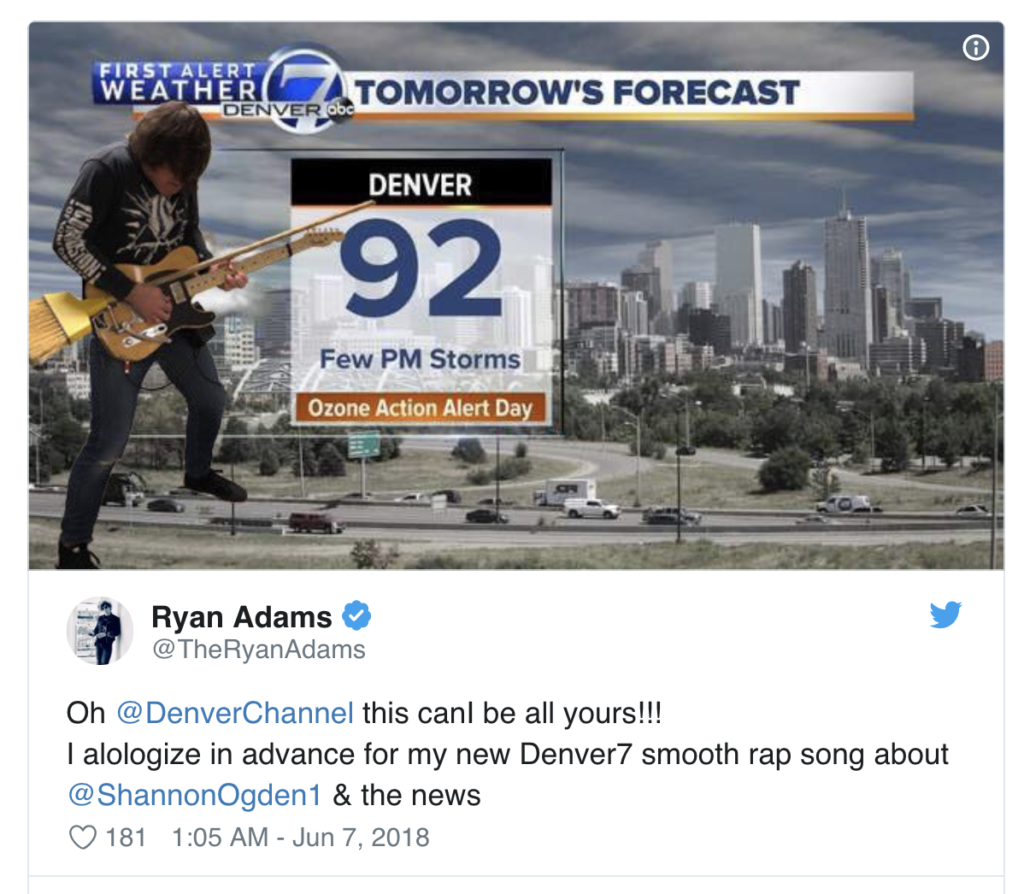 Following the jingle for Colorado next up was a weather-styled gimmick as both weatherman and jingle-composer for Denver TV station Denver7. The style this time around was smooth R&B by way of falsetto Beck (think Debra, Beck's excellent Midnite Vulture Prince pastiche). The station's animator got to work and put a charming little video together, rounding off Ryan's effort nicely.
The song was guaranteed to garner attention in Colorado, and with a 9.500 capacity show at Red Rocks Amphitheatre with no tour or album behind it, it made sense with some well directed promotion. Following up the video was an appearance on the news as a guest weatherman. See for yourself and judge how it went.
Ryan and the Unknown Band play their first show in 8 months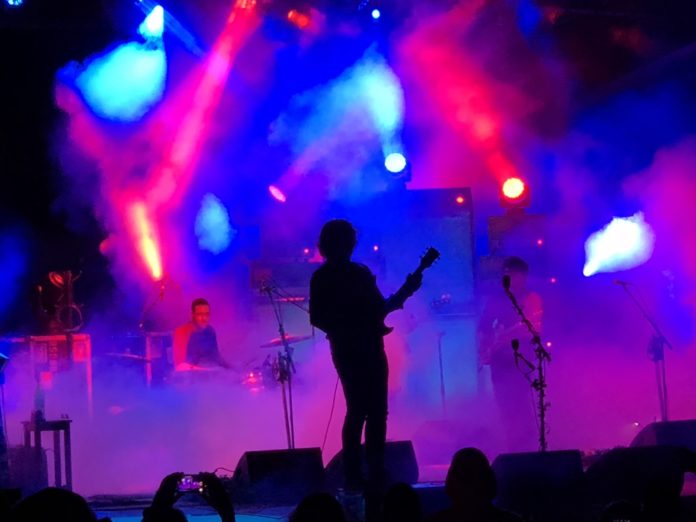 Ryan and the band returned to performing like not a day had gone by. Entering the stage early with the intent of delivering a longer set, that's exactly what they proceeded to do. Complete with multiple versions of Fix It and an improvised song about a mysterious door in the venue perhaps leading to the besung Secret Canyon.
The line-up was exactly the same band as for the latter part of the Prisoner tour: Todd, Aaron, Ben and Charlie.
Ryan plays his forth annual show at Red rocks with First Aid Kit guesting
Ryan returned to Red Rocks for the fourth year in a row. This would be only the second Unknown Band show in 2018 and also the last. The opportunity must've been impossible to turn down for an old rocker.
Co-headlining was the Swedish duo First Aid Kit, who at the time was massively popular and making it big on the back of their third album. They will have been a big sell to a good part of the audience.
The venue itself was as breathtaking and beautiful as ever (how do they always manage such pristine weather, I ask as a Dane from the rainy Northern Europe). First Aid Kit joined Ryan for 2 songs: Oh My Sweet Carolina and Come Pick Me Up. Interestingly enough one of their first singles was called Emmylou (about Emmylou Harris who sings backing vocals on Heartbreaker) and here they essentially stood in her shoes backing Ryan.
Managing 4 years in a row at Red Rocks is no small feet for Ryan, who previously has been touring solo only for some years or not touring at all. Making it happen in 2018, essentially a non-touring year, shows his commitment to this venue, and I suspect we'll see a show here in 2019 as well (with new material!).
Ryan discusses album release plans with fans on Twitter (Prisoner 2 & 3 etc.)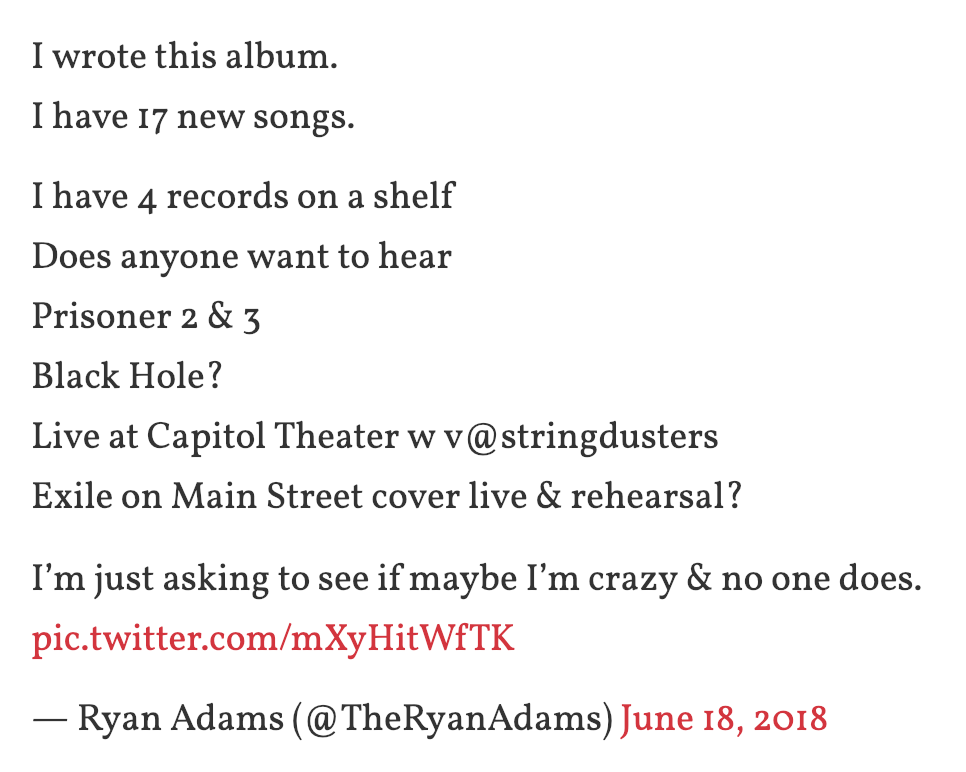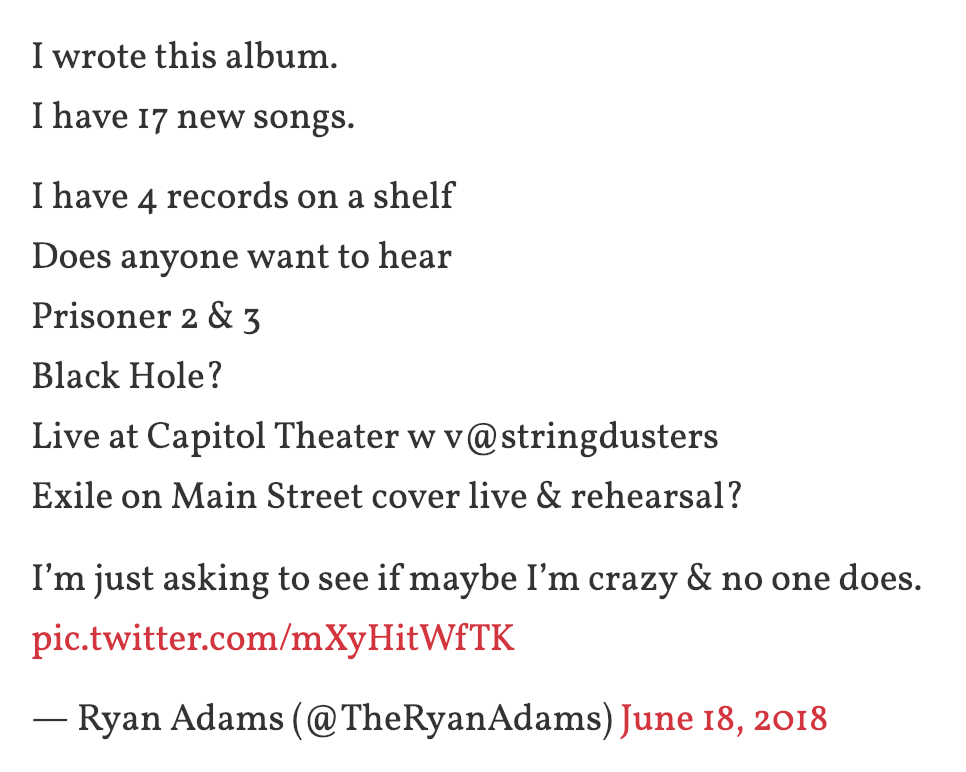 Ryan is no stranger to teasing his fans with the promise of long archived releases, new recordings or upcoming projects. Of course this is a case of an artist being excited about his art and wanting to share that excitement with the fellowship most likely to share his sensibilities, namely his audience.
In various interviews during the Prisoner tour it was mentioned that 70 to 80 songs were recorded for Prisoner, and also that they were ordered in 3 differently themed albums. Additionally there are the Prisoner b-sides, a total of 31 songs released at the beginning of the Prisoner tour. With this in mind it was only natural to consider releasing more Prisoner material following the scrapped 2018 album and with a new one only just begun (what would eventually become Big Colors).
The other 3 projects he considered releasing, describing them as sitting on his shelf, mixed, were a live album with The Stringdusters, a live album of both the rehearsals and the show from New Orleans performing Exile on Main St. and finally the infamous Blackhole album, recorded in 2007.
If nothing else the tweets got Ryan a lot of press and it may even have been the start of the multi-release plan for 2019.
The single About Time is released (by mistake)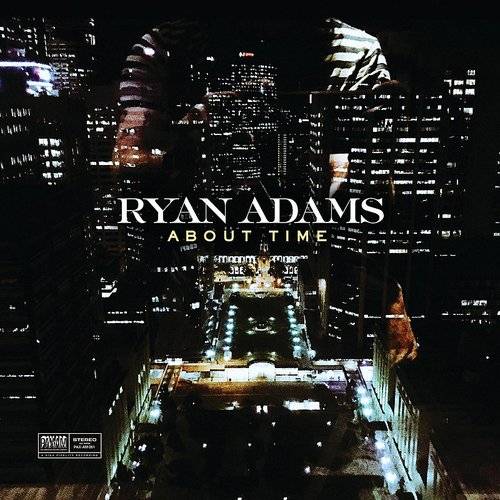 Following the talk of Prisoner 2 & 3 the single About Time slipped out seemingly by mistake. The songs sounds like a Prisoner outtake, though very little is known about its recording or personnel. With a cover complete with a PAX-AM catalogue number it suddenly showed up on Music Millennium's web store, a dodgy, off the map MP3 shop based in Portland, Oregon. It never showed up on iTunes or streaming services, has no mention on the Pax Am site and is not available to buy outside the US. It is a small wonder that it is still available at the time of writing, more than 6 months after the fact.
First glimpse of Ryan's Signature Fender Stratocaster (production model)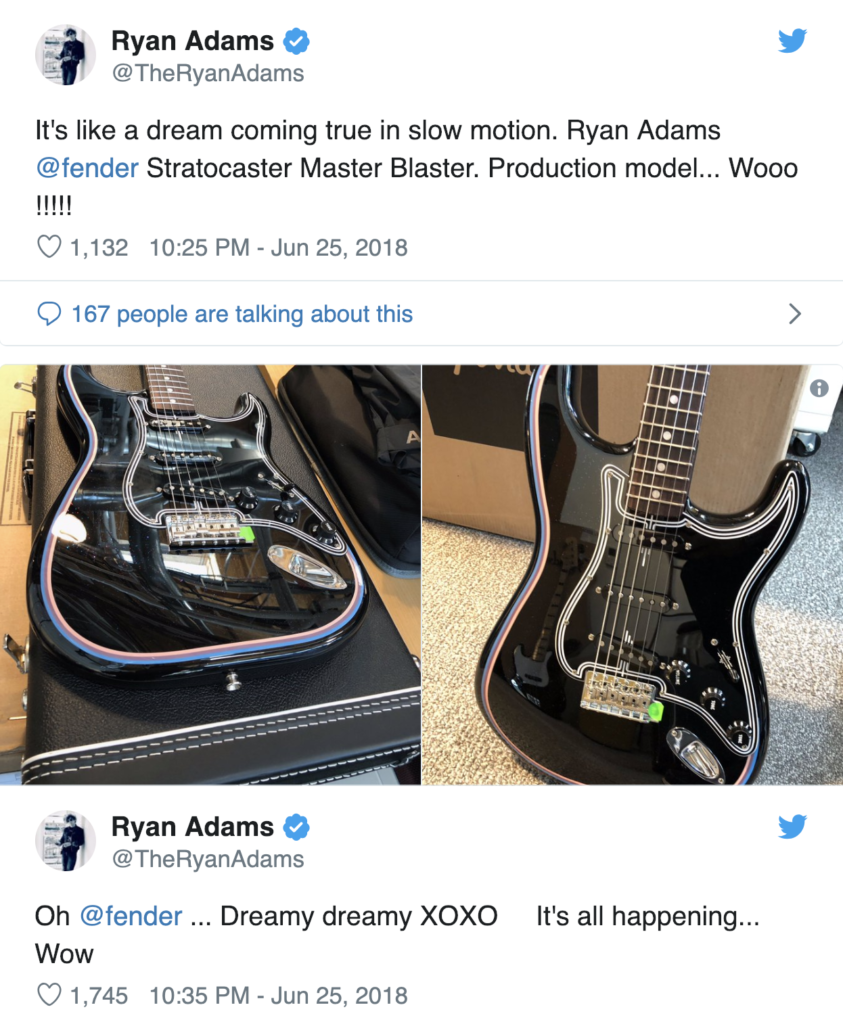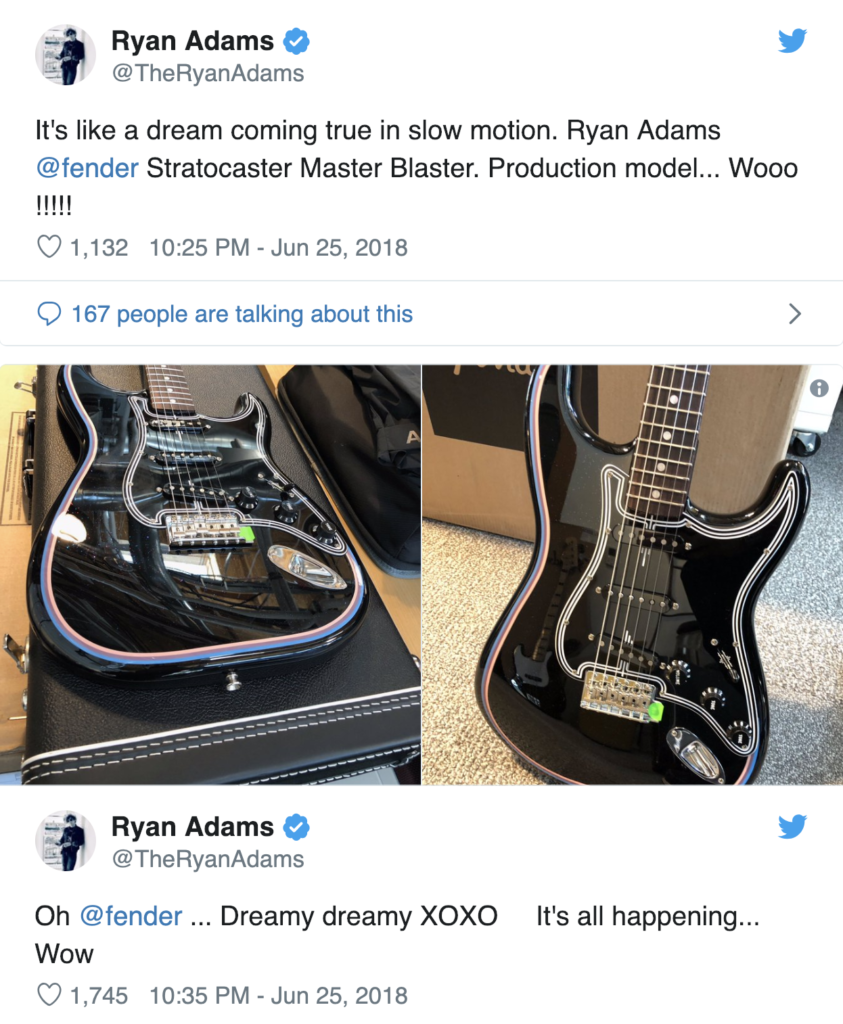 Ryan Adams hinted at a collaboration with Fender late 2017 and in June he unveiled a closer look at his signature Stratocaster sharing a video clip showing off his custom guitar, complete with a sparkly black finish and multi-colored detailing.
Dubbed the "Ryan Adams Fender Stratocaster Master Blaster," the instrument that appears in the video is still a production model (in January 2019 Ryan would comment on Twitter that the strat would be ready "around summer" last he heard).
July
In the studio with… Miley Cyrus?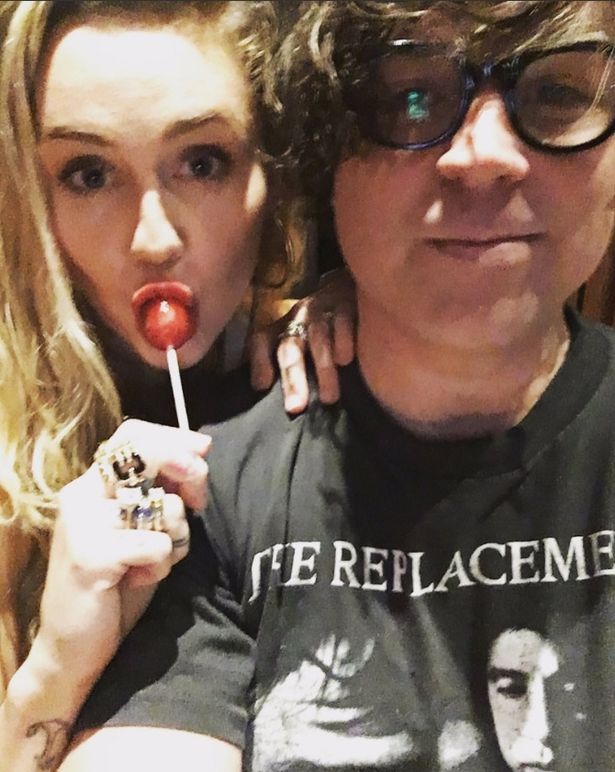 The press was quick to run with the "story" of Ryan and Miley being in the studio together.
Here's how a report from Stereogum went:
"Over the last few weeks, Ryan Adams has been in the studio. We know this because he's been constantly posting updates about it on on Instagram. He recorded his next project in Electric Lady Studios in New York City, and he took a selfie in front of the building almost every single day that he was there.
We've learned some interesting info about whatever Adams has going on next. He recorded 50 songs in total over the couple weeks that he was there — he even shared a long list of tracks, some of them labeled acoustic, some rock, some piano, and even more "unknown." He cut his hair in the studio. He shared some lyrics to a song he was working on. There was apparently a night where he recorded 19 songs. There's a manila folder labeled with the phrases "Big Color" and "Power" — double LP titles, maybe?
Perhaps the biggest surprise is that, towards the end of the whole process, he was joined by Miley Cyrus in the studio. It's unclear exactly in what capacity, but it's a thing that happened!"
The song list of 50 songs along with most other reports from 2018 was lost when Ryan later deleted his Instagram account (and started another).
Ryan later said of the session with Miley Cyrus: "I don't know what this is we made but it was the best session I ever did."
Miley has been a fan since at least 2013 as this tweet illustrates well: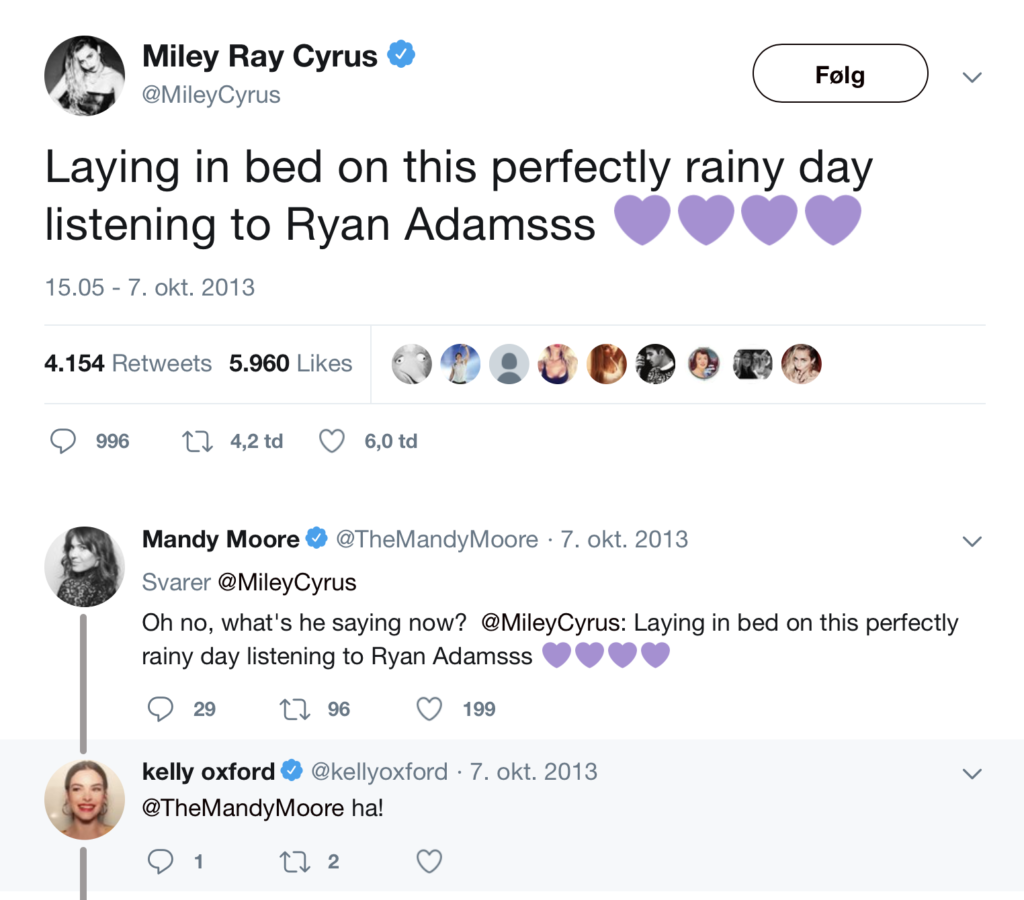 Former Whiskeytown tour manager releases a book on his adventures with Ryan, Waiting To Derail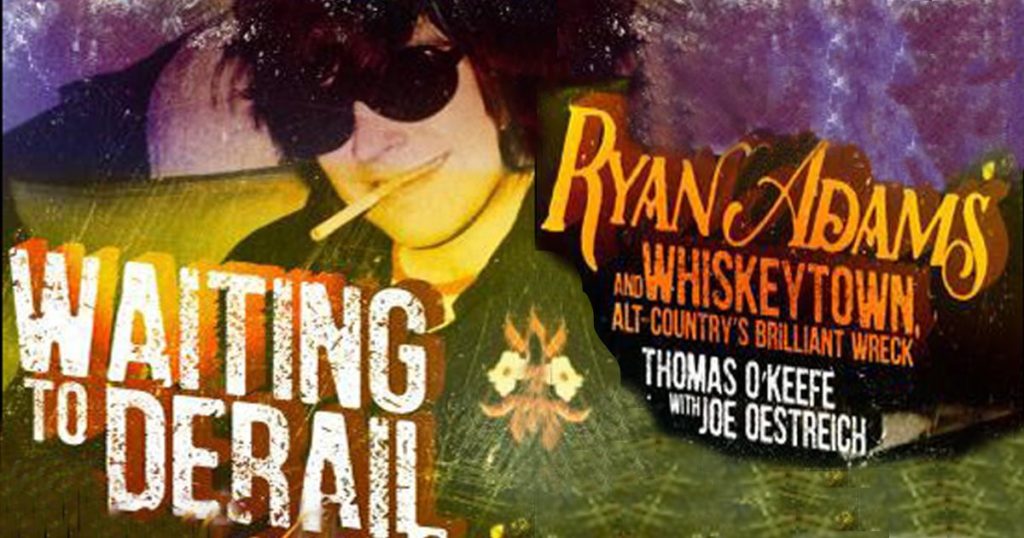 Ryan did not participate in the writing of the book, but has said he is writing a Whiskeytown book of his own.
Author Thomas O'Keefe was the tour manager for Whiskeytown beginning with their first major label tour supporting Strangers Almanac, until their breakup in 2000. The twenty-year veteran of the music industry is currently tour managing Weezer.
Talking to AllMusic the writer said: "I felt it was an important story. I saw the band 174 times, I wasn't drunk and I have an elephant's memory and I kept notes. I wanted to get the story together before I got old and forgot it myself."
August
Fun night at Largo with famous friends
Ryan Adams, Lindsey Buckingham, Lena Dunham, Marc Maron and Neil Finn all joined Judd Apatow at Largo for one of his recurring charity shows on August 16. Reports from these shows are usually quite spare other than tweets from the artists themselves. Thus it is unclear whether Ryan actually performed, but he did bring one of his trusty Buck Owens guitar and proceeded to teach Lindsey Buckingham his acoustic version of the Iron Maiden song Wasted Years.
Juliet, Naked soundtrack is released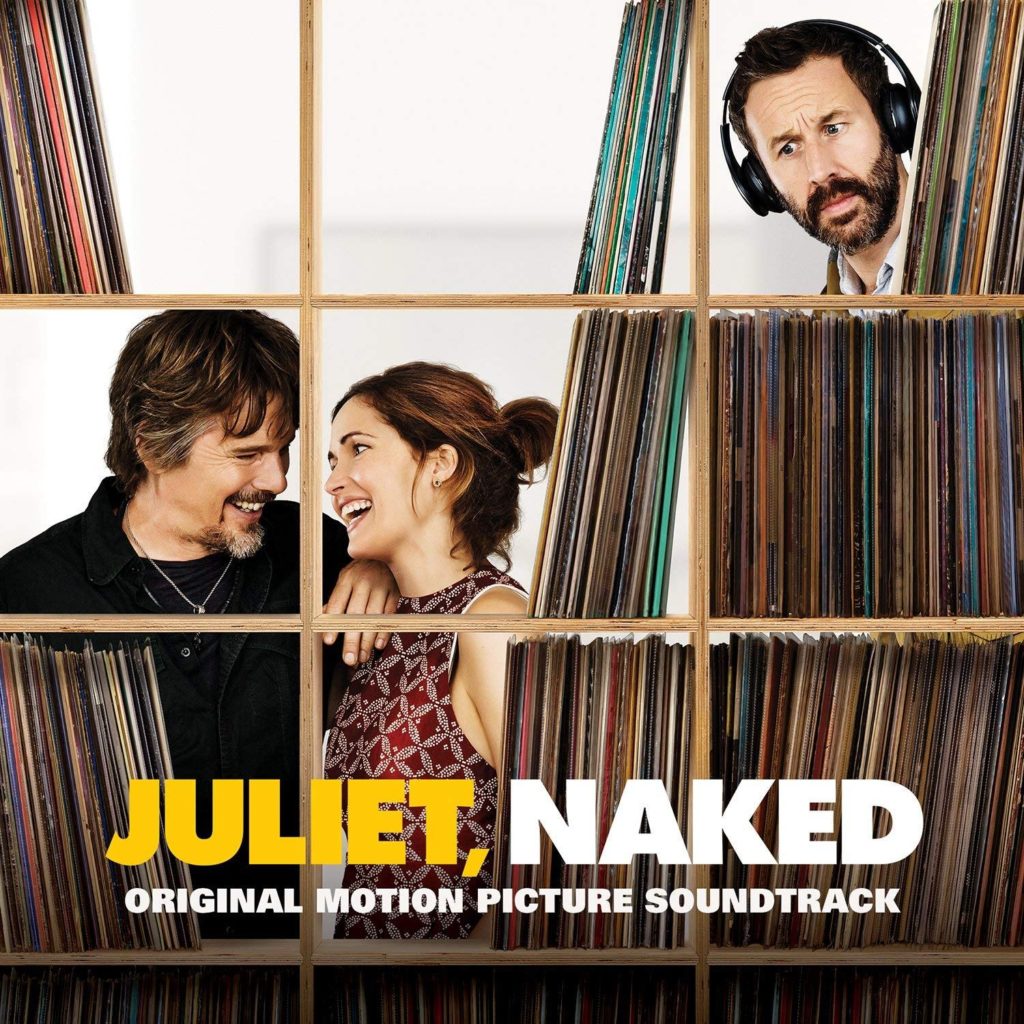 The Nick Hornby novel Juliet, Naked about a faded cult singer/songwriter was turned into an excellent little movie in 2018. For the soundtrack the producer solicited original material from 35 different artists over 3 years to gather the right material for the movie's cult figure. Ryan's song 20th Call Of The Day appears on the soundtrack in demo form as well as a version sung by the movie's lead actor, Ethan Hawke.
September
Defcon4 guitar pedal released by Walrus Audio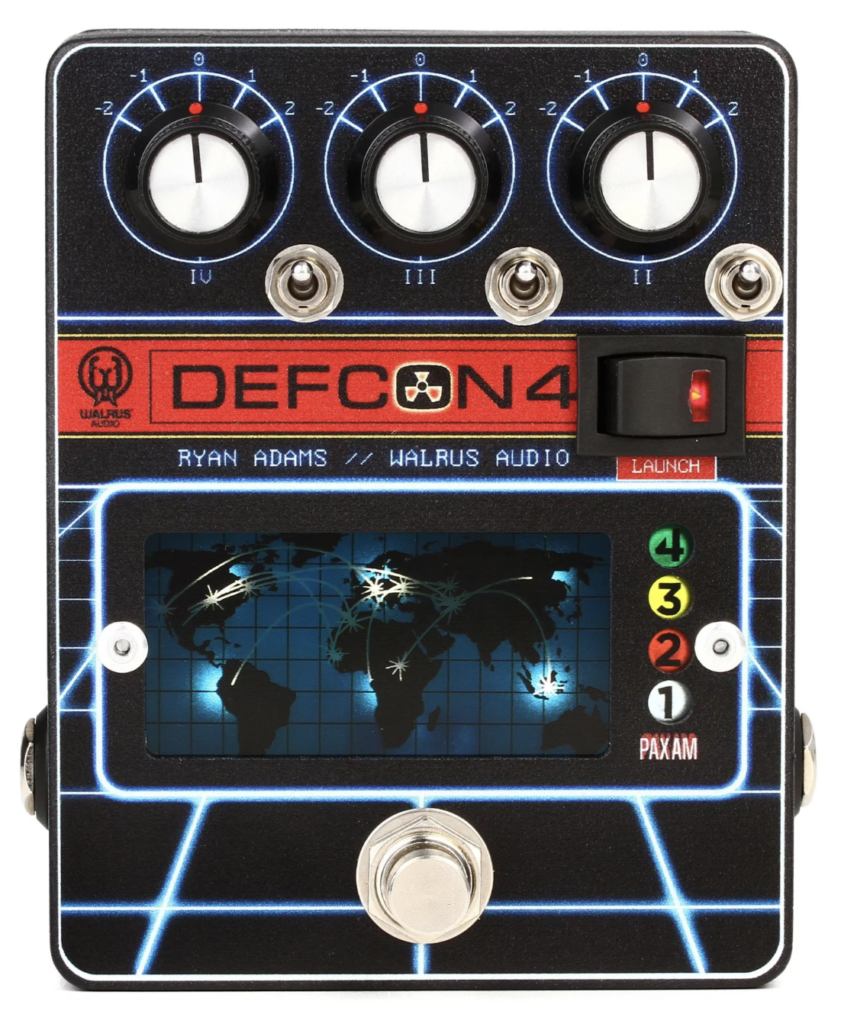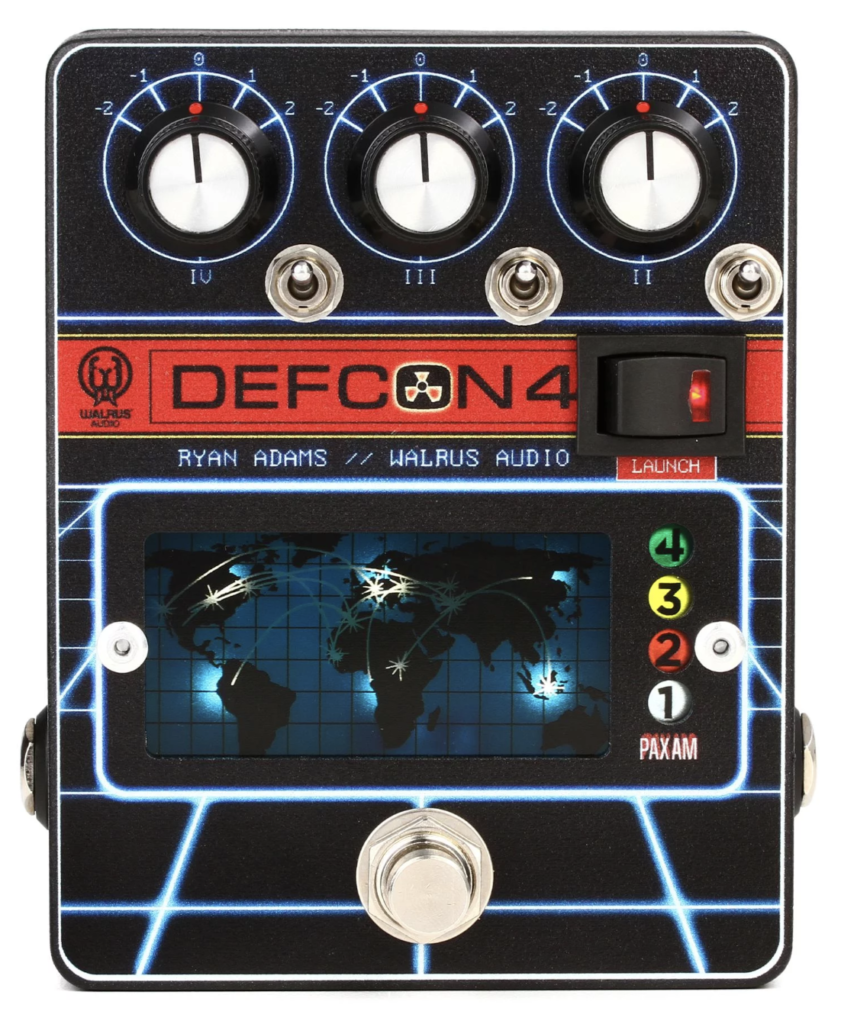 A year after his first signature guitar pedal comes yet another high-end pedal from an esteemed manufacturer, Walrus Audio.
Yet again the layout is playful and retro with a clear to cult 80s iconography.
Here's the write-up for the pedal on Sweetwater: "With low, mid, and high EQ bands to boost or cut to your tastes, the Walrus Audio Defcon4 pedal is a great way to tailor your tone for any setting. Just a few knob turns brings out the best in any guitar, whether it has humbuckers or single-coil pickups. Guitarists at Sweetwater like using the Defcon4 pedal as a focused boost too — just engage the Launch control for a 10dB boost. Walrus Audio worked closely with Ryan Adams on the look and sound of the Defcon4 preamp/EQ/boost pedal, and the result is a flexible sonic tool that drips with '80s vibe."
October
Social media troubles and subsequent focus on healing
In the beginning of October a few negative interactions on social media got a lot of press and a wounded Ryan retreated from social media and subsequently his concert commitments in Germany. He returned briefly with overly positive messages and commented on suicide and mental health for the World Mental Health day.
November
German festival shows are cancelled
Two German festival shows, booked months earlier, were unceremoniously cancelled without explanation. We now know that the reason is that Ryan was in some sort of rehab taking care of himself and his mental health.
December
60 days sober and year-end updates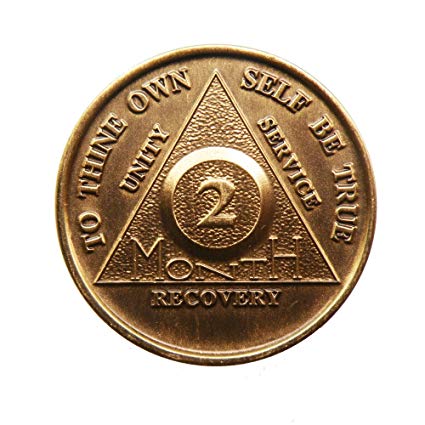 Ryan rounded off the year with a status on his healing and a good-bye to 2018:
"2018: you brought me to my knees," he wrote on his Twitter post. "It turns out that's where I needed to be: in prayer for everyone here or lost. In these trying times, God bless everyone struggling or on the path to empathy, kindness and recovery."
Adams also attached a photo showing off his 60-day sobriety token.
He topped off his post with well wishes: "Keep the Faith. & may the Faith keep you. XO."