by Michael Niebuhr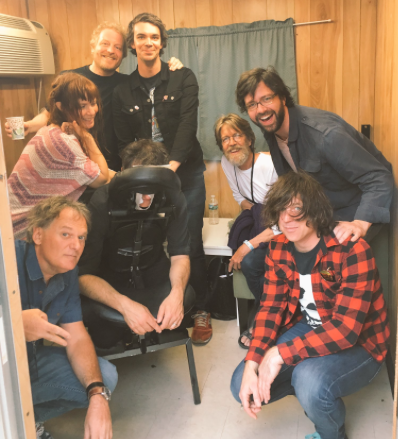 Charlie, Mike, Freddy & Daniel have been behind Ryan for 2 years today. Charlie and Ryan go way back and Mike and Daniel have some history too. This summer they're coming into their own as The Shining, as the band take on a rockier sound and deliver one quality performance after another. I've yet to read a bad review.
It's easy to get the feeling that they perform the "greatest hits of Ryan Adams" and to a large extent that's what they do. But when you dig a little deeper, there's quite a bit of variety. A total of 135 songs have been played in their short time together. About half of those are one-offs – mostly covers and improvised songs. But a good 70+ songs being shuffled around is not too shabby either. And I love the improvised songs. Especially the later ones from this summer, that seem better than ever. But that's probably due to them being still fresh in my mind.
A lotta love is going round on this tour. Friday Gigi, the sound engineer, got her second Happy Birthday Gigi during the gig in Charlottesville. That's so sweet.
The previous day Mike Viola got some love on Twitter: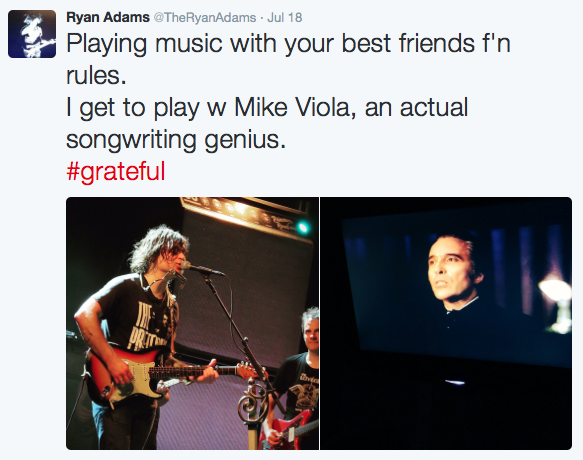 Old pal Jason Isbell and his wife Amanda Shires opened for Ryan in New York. The meeting was shared and the 3 look up to something:
Finally here are the band introductions from PromoWest Fest in Columbus, Ohio (July 15th) by way of taper Dewey Cole:
"Thanks for catching our show tonight, you guys.
On the electric guitar all the way from Tulsahoma: Mike Viola. Where is Tulsahoma, Mike?
Mike: It's 20 minutes south of Boston.
And on the bass guitar, you may have seen him on the show Sopranos: Charlie Stavish. He's between seasons.
On the drums. He used to ride dragons for a living. He's like all the members of Merciful Fate in one person (Danish metal band from the 80's): Mr. Frederik Bokkenheuser. Totally appropriate for sad music.
He's siting behind the amplifiers right now, so you can't see him. He's tall, he has the weed and we love him. He's very shy so he doesn't like to get on stage. [Charlie Stavish]
And last but not least. A smile with a twisted pencil moustache if it were a man. A record store that only sold ice cream. If it was a man. A striped shirt that would only wear polkadot socks to my funeral. He's radioactive, he glows in the dark. He's a bad motherfucker. Mr. Daniel Clarke!
My name is Ryan, thanks for coming out. Our crew fucking rules! Our crew rules and you rule!"
If you feel like digging into some of their songs, perhaps some rare performances, then have a look at this list of